Determining N-Count
Askverts must be sent to an audience of at least 3 respondents
It is recommended to send to an audience that is at least 3-5x the size of the number of desired responses

Example: to receive 500 responses an Askvert should be sent to an audience of at least 1,500 - 2,500 respondents.

Take into consideration the Margin of Error; the larger the base size, the smaller the margin of error
Consider your budget (the cost is $1 per respondent, per question)
Setting Your N-Count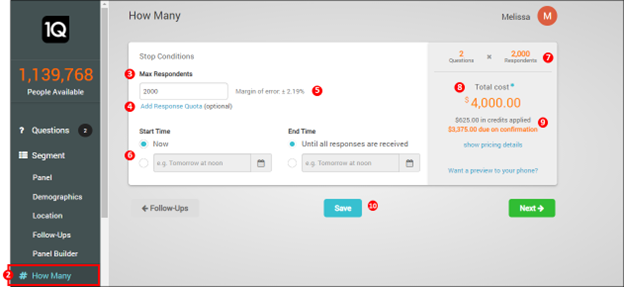 Create your Askvert
Navigate to # How Many
Enter the Max Respondents you want to send this out to. This will create stop conditions and will automatically close the survey once you hit that number.
If you want to have a certain number of respondents answer a specific question, you can enter that into the Add Response Quota option.

You must be using skip logic in one question that carries over into another question. For example: if you have a question asking for beverage preferences of 200 respondents, but only want 100 soda drinkers to move on to the next question, you would enter 200 in Max Respondents and 100 at Q2 in Response Quota.
If this is applied, the stop conditions will apply to whichever condition is met first, 200 total respondents, or 100 soda drinkers

Margin of Error is automatically calculated to the right of the Max respondents - the more respondents you have, the lower the Margin of Error will be
Sometimes it's a good idea to start or stop the Askvert at a certain time or day. Enter those details here (not required) and it will open (or close) at the specified time
To keep a pulse on the total questions and responses, review the top right of the # How Many page
The total cost will automatically populate based on the criteria you have entered

this is reflective of a MAX cost - unused credits will be returned to your account once the Askverts close

Under the total cost is a breakdown of how many credits in your account will be used and what your remaining balance will be. You will be prompted to pay the remaining balance before running the survey.
Make sure you save frequently!